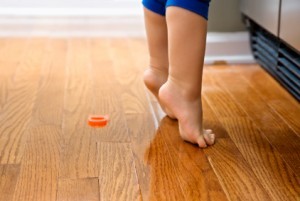 Whether you are planning to renovate your commercial or residential space in Portland, OR, solid hardwood flooring is the most attractive and reliable option. Hardwood flooring offers a sense of permanence to your interiors and has been a very popular flooring option for many years. However, many homeowners have a tendency to overlook solid wooden floors because they are initially very expensive to install compared to linoleum and carpet. However, the benefits outweigh the initial cost when you choose to install hardwood flooring. Here are six reasons to choose hardwood flooring for your next renovation.
1. Easy to Clean
Among all types of flooring materials, hardwood flooring is one of the easiest to clean. A little sweeping and mopping with the right wood floor products, and your hardwood floor will stay looking clean and beautiful for a long time. These type of floors do not easily accumulate a lot of dust, debris, and dirt, making it easy to clean. A regular cleaning procedure involves keeping the floor dry, vacuuming, and mopping.
2. Durable
When it comes to durability, solid hardwood flooring can last for many years without the need to replace them. There are only a few flooring materials that have stood the test of time as long as wooden floors. Over many decades, hardwood flooring has proved to be a durable and lovely floor choice. Able to withstand heavy foot traffic and active workplaces, they are simply tough, hard-wearing, and most importantly, have long term durability. In contrast, many homeowners find themselves replacing other types of flooring like carpets every five or less years because of shabbiness, stains, or holes from wear and tear. With hardwood flooring, you will find there is minimal maintenance and floors that look better as the years go by.
3. Ageless Quality
When other types of floors will start looking worn and tired, hardwood flooring will always look beautiful and smart. As time goes by, this type of floor becomes more valuable. And unlike vinyl and carpeting, these particular floors can easily be refinished instead of replaced when the finish demands an update.
4. High Quality Look
In addition to ageless quality and an elegant aesthetic, solid hardwood flooring provides the warmth, value, and beauty of wood that never goes out of style. Hardwood flooring also make rooms look more spacious, no matter where they are installed. Unlike other flooring materials, wood floors maintain their original look for a long time without losing it.
5. Many Varieties
Another benefit of having hardwood flooring is the wide variety of styles and designs you can choose form. There are several styles, colors and types of wood available for installation. You can also choose between unfinished and pre-finished hardwood floors. Regardless of how unique and diverse your needs are, there are several options of hardwood flooring available to choose from.
6. More Hygienic
When it comes to hygiene, solid hardwood floors are more hygienic than vinyl and carpets. In fact, there are some horrifying reports detailing the parasites and allergens that can easily be harbored in your carpet. These allergen-producing dust fleas or mites play havoc on people and pets, especially allergy sufferers. However, wood floors can help eliminate this, saving you extreme discomfort and money in the long runs. Additionally, these floors also help with indoor air quality, containing no grout lines, fibers, or embossing that can easily trap particles, pollen, animal dander, allergens, and dust. This is particularly useful for those who have pets in their homes.
In a nutshell, solid hardwood flooring is a great long-term investment. Choosing wood floors increases your property's value and becomes a strong resale point if you ever choose to sell your home, enabling a quick sale and higher sale earnings. Lastly, they are easy to install for those with experience such as Kinsey Hardwood Flooring. Always choose the style that suits perfectly with the rest of your household. Kinsey Hardwood Flooring in Portland, OR can install quality wood floors in any building, be it residential or commercial.