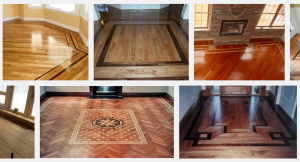 Updating your home interior can be exciting, and nothing can look more beautiful than a customized hardwood floor design. Wooden floors offer homeowners a classic way of adding warmth and style to your home, and with a custom hardwood floor design, your home can have a look that is distinctly your own. Customizable diamonds, borders, and hexagonal shapes are just a few different styles you can choose for your new customized hardwood floor design.
With so many potential options, literally hundreds of different patterns and styles to customize, how do you choose what to include in your floor? The indecisiveness of picking the exact pattern can be intimidating for some. However, the best ways to figure out what you might like is to visualize it, and there is no better way to do this than to find hardwood floor design and images that you love and inspire you.  To get you plan your next hardwood floor design, here are five places you can go to help you find ideas and inspiration for hardwood floor design.
Houzz is a website that provides many different photos to reference and design ideas to help you cultivate your perfect interior design. You can search within a select category, such as living room or rustic, and many of the uploaded photos include a detailed breakdown of the types of products used and the cost of material. This makes this site particularly useful, allowing you to recreate the exact look. They even have a page dedicated to hardwood floor design with some nice information about flooring choices to help you choose. You can create an ideabook to save all of your favorite hardwood floor designs you find.
Pinterest has become the Internet go to site if you are looking for any form of inspiration, whether you are looking for a new décor tips, how to repurpose furniture, or beautiful hardwood floor design ideas. This site gives you an extensive and diverse selection of images from any category you could think of, and it is well worth giving the site a browse. You can search any type of hardwood floor design and even specific wood types and customizations. Create a board to have all of your favorite hardwood floor designs in one place to reference.
HGTV provides viewers with a beautifully formatted design site that is a pleasure to explore. Though the site is diverse in its focus of content, you can find articles that either are dedicated to hardwood wood design or host photos of interior design that include hardwood floor design. The website hosts many different styles of interior design, and therefore, can help you envision a particular hardwood wood design in a specific type of room or decor style.
Whilst there are plenty of sites and interior design blogs to help you find the ideal hardwood flooring design for your home, nothing quite beats the potential of searching Google Images to find beautiful images and designs. There is a reason Google's search engine is so popular. It is extremely efficient and can provide you with the most extensive grouping of photos and random articles related to hardwood floor designs. Search for general "hardwood floor designs," or limit it to something more specific such as "custom diamond-pattern hardwood floor design." You might even want to try the Google shopping tab to see what woods are available and what their general prices are.
We not only include images of custom hardwood floor designs we have done for previous customers in our gallery, we can also consult you on what we can do and what you might want for your hardwood floor design. Our many years of experience in the field of hardwood floor installation and customization means we have seen many styles of hardwood floor design and can suggest patterns that you might like.
Deciding on a hardwood floor design that you love will allow you to have the exact look you want with a distinct look you haven't seen in other wood floors. Check out these five places to help you get ideas and inspiration for the exact design you like, and call us in Portland, OR to talk about installing a hardwood floor design.