Maintaining clean and shiny hardwood floors with a four-legged friend in the house can be a challenge, especially since many floor owners find that their favorite puppy paws have left terrible scratches that ruin the finish of their hardwood floor. Finding all of those unintentional marks can be despairing.
Be honest. 
The dogs don't intentionally scratch the flooring, but a good play session can cause their claws to dig in. Running to the door to greet you in the evening can leave a gouge in the surface of your hardwood floor.
That being said, there are many ways your puppy can unintentionally scratch your floor.
No worries! We've got the answers.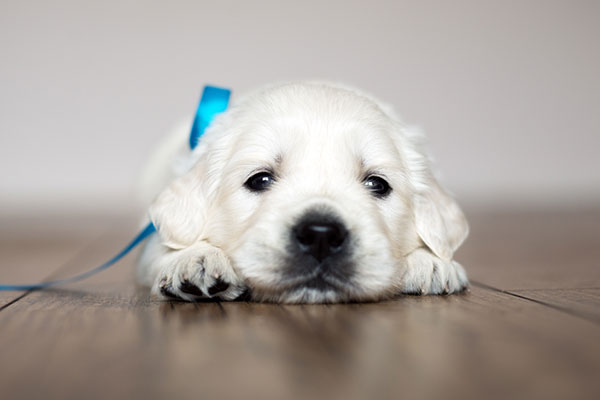 7 Tips To Protect Your Hardwood Floor From Your Four-Legged Friend
Nail Grooming
In the first place; it's a good idea to do some grooming. Proper claw grooming is very important to help protect your hardwood floors. Dogs have hard claws that grow much the same as human nails. Unless your dog spends a considerable amount of time outside, his claws will likely need to be trimmed in order to keep them under control. There are dog grooming products, such as claw clippers, that are made specifically for dog nails and files to smooth the sharp edges of the nails. However, be very careful not to cut the nails too short, as you could cause your dog a great deal of pain.
Place Carpets
Additionally, if your dog traverses the same stretch of floor many times each day, he will gradually damage the wood even if his nails are short. You can protect certain sections of the floor by placing rugs in these key areas. They also catch dirt before it has a chance to get ground into the wood floor.
Establish Puppy-Free Zones
If only part of the house has hardwood, you could simply keep your puppy out of these rooms by installing pet gates or keeping doors closed. You can even train your dog to stick to only carpeted or ceramic-tiled rooms.
Apply Claw Coverings
Equipping your puppy with thin rubber claw sheaths is an excellent way to protect your hardwood floors. The sheaths are marketed as Soft Paws, amongst other brands. Some dog salons charge a small fee to equip the sheaths for you, even though you can order and put them on your own.
Wax
Furthermore, to protect your hardwood floor, you may choose to apply wax. A layer of protective wax will help provide a buffer between your dog's claws and the actual wood of the floor. This can make treating light scratches as easy as reapplying wax and filling in the gouge that was caused by your puppy.
Floor finish
If you have yet to install a hardwood floor in your home, then consult with Kinsey Flooring which floor finish is the best one for you and your puppy. That is because it depends dramatically on how the floor is finished. Some finishes are difficult or impossible to repair, while others are very easy to repair. The ones that are very easy to repair, like wax or shellac, are older and require a bit more maintenance, but they can be a good choice with dogs.
Clean accidents quickly
If your four-legged friend has an accident on your hardwood floor, start cleaning right away. The longer you let the mess sit, the more it will eat away the wood. The faster you act, however, the less risk there is of warping and staining. Scratches covering a large surface area are best handled by sanding and, if necessary, re-staining all the affected boards and resealing with polyurethane.
To prolong the actual life of your hardwood floors, it's a good idea to invest in a touch-up kit. This kit is actually a special marker-pen that you can use to fix and mask eventual superficial damages. In the end, picking your flooring wisely and caring for your dog's nails are all key. By taking care of your dog's nails and keeping your floor clean all the time, your floor will look shiny all the time. Your puppy will be happy too. Call Kinsey Hardwood Flooring in Vancouver, WA to learn more about which hardwood floors are good for you and your pet.