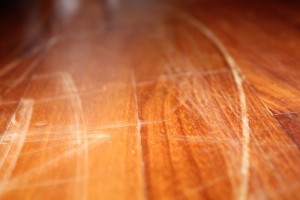 Having hardwood floors is a beautiful addition to any home. However, visible scratches can mar the beauty of hardwood floors, making it look dull and worn. Even if you are very careful with your floors, scratches happen. Anything, from pushing heavy furniture, to pet toenails, or dirt tracked in from outside, can cause scratches. If you find light scratches on your floor, depending on how deep the scratch is, you can attempt to remove them from your floors yourself. Here are some tips on how to repair minor scratches in your hardwood floors.
Assess the damage. 
Determine the depth of the scratch by inspecting the scratch on the surface area of the floor. If the scratches are only in the finish, than it should make for an easy fix. If a scratch goes into the wood, make sure that it only goes slightly below or is at surface level. Anything beyond this level of damage is no longer a scratch, it is a gouge, and may require total substantial repair or replacement of the damaged board by hardwood floor contractors.
Clean the damaged area.
Apply some warm water onto a rag dampened with mineral spirits to clean the scratched area. Before you make efforts to fix the scratch, allow the cleaned area to dry fully.
Conceal the scratch.
To make a minor scratch less noticeable, follow one of the tips below.
Locate a permanent marker that is close to the color of the floor from a craft store. Use the marker to color the scratch.
Visit a hardware store and purchase a stain marker. Apply to your floor as directed by the instructions.
Take a cotton swab and dip it into a small amount of stain that you used during the completion stage of the floor. Dab the stain carefully onto the scratch.
In any case, remember to rub the area with a clean, dry cloth in a circular motion to blend the marker or stain into the floor. If the light scratch is still somewhat visible after treatment, contact a local hardware store to find a touch-up kit that might help to cover up the scratch.
What do I do if my floor has deep scratches or gouges?
Though you can find directions on how to repair deep gouges by yourself online, Kinsey Hardwood Floor contractors does not recommend this for those who know little about hardwood floor repair and install. With the amount of sanding and staining potentially involved, you may end up causing irreparable damage to your beautiful hardwood floors by trying to repair deep scratches without professional expertise. If the damage to your floor is more than a simple, light scratch, bring in local hardwood floor contractors to look at the damage and provide consultation. They may be able to come up with a solution or repair that avoids a complete replacement, and will know exactly how to address your floor repair regardless of the type of flooring or wood type.
Hardwood floor repair can pose a great challenge. It can take a great amount of time and involves several influential factors such as if your floor is vinyl, solid wood, or pre-engineered, or the type of wood your floor is made. Hiring hardwood floor contractors to repair deep gouges or substantial damage is the most surefire way to ensure your floors are brought back to their former glory with no additional damage.  Kinsey's certified hardwood floor contractors have completed hardwood floor repairs for several clients over the years. So, protect your floors. Buy rug covers, clean up spills, and feel free to conceal minor, light scratches. But don't forget to call one of our hardwood floor contractors if your floors need substantial repair or replacement.