When choosing interior designs and materials for a new house, one important question asked by the new home buyer, do we try to match the wood choices for our cabinets with our hardwood flooring?  With so many decisions to be made for the new house, this adds another dilemma to decorating. There seems to be two ways to go with the decision on determining what materials to use for the cabinets and the flooring.
Match the Two
If deciding to match the hard woods, do not try to match the species and color exactly. This will prove to be nearly impossible. But, wood tones and colors that are similar produce a nice effect. For example, Red Oak flooring and Cherry wood cabinets with a light finish are complimentary. Similar wood choices give an effect of continuity and balance throughout when rooms open to each other as when the kitchen and the family room connect without any dividing wall. If you have a favorite hardwood choice, this makes it easy to complete your décor with the one choice that transitions from room to room.
When matching cabinets with flooring, the key is to choose similar grain patterns in the wood. Similar grains accept stain in a consistent finish.  Even though wood can be stained the same color to match, grain lines must match for design aesthetics. Oak and Ash have similar broad-grain patterns with a light amber color dispersed among them. Cherry and Alder absorb stain at a similar rate and make a good match. Mahogany differs slightly from Cherry and Alder, but by selecting the Philippine mahogany, it matches well with Cherry. Maple and Birch complement each other as they have subtle or almost no grain patterns with a majority of white or light-colored open spaces varied with large swirls of darker wood. Even professionals have a difficult time telling them apart.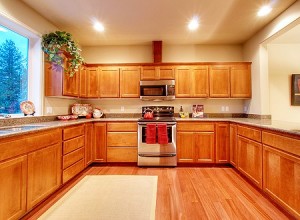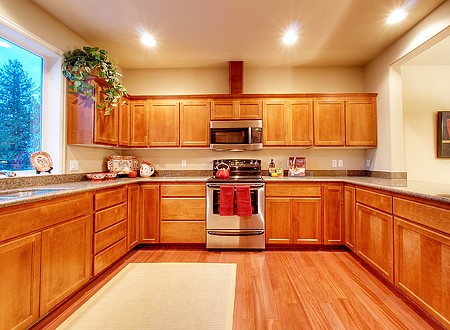 This example of similar hardwoods gives a balanced, consistent look.
Mix it Up
Mixing different hardwoods allows for more creativity in the home. Selecting different hardwoods may seem more time consuming, but really you need not follow rules to design your home with variety. Adding in a number of different hardwoods puts a different spin on complementing choices. Light and dark varieties complement each other in ways that please the eyes of the designer. One suggestion to follow when using patterns, use similar patterns throughout the house, and avoid applying different patterns in the same area.
Combining different hardwoods within the same space also allows creativity by choosing to paint colors into the decorating scheme. For example, light colored hardwood cabinets fit nicely with dark hardwood floors; adding in color by painting the island base cabinet lends to more design creativity. Within the free design, varied hardwood furniture adds another dimension to the décor. Also, finish stains come in different colors; when applied to cabinets it creates the furniture look as a popular decorating choice.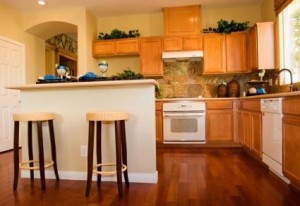 In this photo, the contrast is not too bold, but the choices between cabinets, floor, and furnishings fit well together.
Now you, as the homeowner and decorator, may choose based upon your personal preference, and can feel confident you will appreciate the wood selections in your house for years to come. Use samples of different types of wood to see if it matches your floors.  Leave the samples in the room for a few days to see it in different types of lighting.
Visit the Kinsey Hardwood location in Vancouver, Washington for sample panels to compare and contrast to help you select the hardwood décor most pleasing to you. Kinsey hardwood floor contractors' vast experience and knowledge will make it easy for you to select woods that fit your preferences.