Now is the time to select your Christmas tree, the choices: a real, fresh cut tree, or an artificial tree. The following tips will aid in a careful installation of the fresh Christmas tree.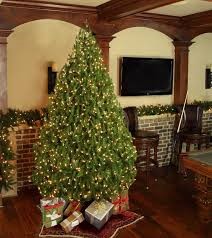 Bringing home a fresh-cut Christmas tree adds the real evergreen scent to your home and an authentic appearance and experience. Following a few important instructions can enhance the ease of installing and enjoying your Christmas tree. When you have authentic wood flooring and woodwork throughout your house, having a real, fresh cut Christmas tree will complement your décor nicely.
When bringing the tree into the home, avoid dragging the tree across the floor. If bringing the tree in single-handedly, use a painters cloth, or sturdy blanket to place the tree on and pull into place, trunk first so the branches flex back without scraping the woodwork. Keep that in mind when removing the tree, taking it out trunk first. A dry, brittle tree is more abrasive to the floor and woodwork, and using a drop cloth will catch most of the pine needles. Despite the cleanup of pine needles and disposal of the tree, a fresh cut tree is worth the effort.
The beauty and fragrance of a fresh cut tree is hard to beat. Once the tree is in the home, the warm internal temperature causes a release of a pleasant pine scent throughout the room. A release of the pine scent also could cause the release of sap from the tree. If you have hardwood floors, be careful how you remove sap from the floor. Here are a few products you may have around the house to clean your floor safely.
Apply a little vegetable shortening to a cloth and rub it on the sap
Spray bug repellent such as Deep Woods Off onto the sap stain, agitate with a nylon brush and wipe away with a paper towel or absorbent cloth.
Rub the sap residue with an ice cube and gently scrape sap with a plastic spatula
Using Goo Gone can break down adhesives; rub onto sap stain and wipe away
Rub a lubricant like WD-40 onto the spot and wipe away
Hair spray is used to remove sticky labels; spray and wipe the stain spot
To keep your fresh Christmas tree green and safe, water frequently. Here is a recipe that is used to preserve fresh cut flowers that will work for your tree also. It is a blend of an acidifier to soften water to allow absorption and a disinfectant to prevent the growth of fungus and algae. Mix together 2 cups light corn syrup, 4 teaspoons chlorine bleach, and 4 teaspoons lemon juice or vinegar (optional) in 1 gallon of water. This solution can be stored at room temperature for 4-5 days, or in the refrigerator for up to 2 weeks. Regularly fill the base of the tree stand. Avoid spilling on your hardwood floor; wipe dry immediately if the solution drips on the floor.
Remember to protect your hardwood floors from water damage by putting a small area rug under the tree stand. Using a rug under the tree will also allow you to move your tree while decorating to reach all sides without scratching your wood floor. Kinsey Hardwood Flooring of Portland, Oregon provides more tips for hardwood floor care on their website. Enjoy your holidays as you add new memories this season. Kinsey Hardwood Flooring staff wish all of you a Merry Christmas and Happy New Year.