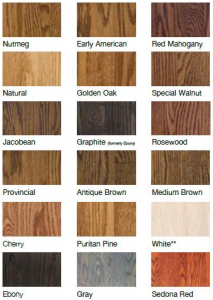 Hardwood flooring is one of the most popular floor types you can install in a home or office because of its beauty, style, and resilience. If you are considering installing hardwood flooring but are unsure whether it will match your current decorum, professional staining may be a great option. Staining can improve the overall look of your hardwood floor significantly as well as match it with the rest of your interior design.
Enhance the overall aesthetic of your hardwood flooring.
One of the main benefits of professionally staining your hardwood flooring is the way that it enhances the overall look of the floor. When stain is applied to your hardwood flooring, it gives it a shine, creating a premium look in your home or office. This can be especially beneficial if you have older floors that are still in good shape but have lost their luster. A good sand and stain can revitalize and bring the beauty back to those old floors.
Match your hardwood flooring to your interior design and decor.
Another great reason to consider staining your hardwood flooring is that you can pick from several different stain colors to match any type of décor or other existing flooring. One of the main brands of wood stains we use and recommend, Bona DriFast Stain, comes in several wood tone colors to choose from such as Early American, Nutmeg, Special Walnut, Rosewood, Graphite, and Antique Brown. However, if you still don't find a stain color you like from the available colors, we can custom-mix colors as well to match your existing stain color or your particular tastes. Find a shade that will best suit the color and design of your home or office. We are always willing to bring stain samples to you and help you to decide on a shade that will be right for you.
Improve the value of your home value.
You should seriously consider having your floors professionally stained if you plan on selling your home and want to improve its value. Improving the appearance of your floors, especially older floors, can make your home significantly more attractive to buyers. Older floors with scuff marks and outdated stain colors can really make your home appear aged and dated. A beautiful, modern interior will appeal to buyers who also appreciate the minimal effort that will be necessary to update the interior's look. By having your hardwood floors professionally stained, you might be able to sell your property at a higher price and more quickly.
When you choose to have us professionally stain your hardwood flooring, we only use the best products in the industry: Bona DriFast Stains. An oil-modified stain, Bona DriFast Stain's advanced technology, quick-drying formula provides speed and high performance for hardwood floor finishing application. Bona DriFast Stains is famous for its high quality floor stains and is safe for your hardwood floor. The stains are compatible with all Bona waterborne systems and all other Bona finish systems. When we apply Bona DriFast Stains to your floor, you will be impressed with the results of beautiful, richly-colored hardwood flooring.
Having your hardwood flooring professionally stained is a great choice if you're looking to improve or change the appearance of your floors. Staining can improve the visual appeal of your floor while also adding value to your overall home. With several different color options and the ability to custom-mix colors, we can find you the exact wood stain color that will allow you to achieve the style and design you were looking for. Call us today if you are interested in having Kinsey professionally stain your hardwood flooring in Portland, OR.