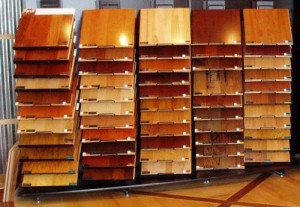 If you love the beauty and durability of hardwood flooring, but don't want to encourage deforestation or illegal logging, you will want to look for sustainably-harvested lumber. Here are some of the best options for eco-friendly hardwood flooring.
1. White Ash
The strength and creamy, rich color of white ash have made it a popular choice for furniture, as well as for athletic equipment like bats and hockey sticks. Ash is comparable to oak in terms of strength, but it is easier to work with because it is less dense. The grain pattern in ash wood is pronounced, but typically not as apparent as it is in oak. White ash is quite a light wood, so be sure you like the look of it.
White ash grows throughout the central and eastern U.S. and parts of southeastern Canada. The lumber is sustainably harvested from FSC-certified forests in many parts of the U.S., making it a good option for eco-friendly hardwood flooring. Make sure you're getting FSC-certified white ash when you buy.
Black Cherry
The only member of the cherry family that grows large enough to be used for lumber, black cherry is a great option for those who want eco-friendly hardwood flooring with a bit more personality. Black cherry wood is characteristically pink or reddish in hue, but the wood is sensitive to light and will darken quickly in direct sunlight. Cherry has a fine texture and a straight grain. Wavy growth rings can give it a swirling texture that is beautiful and unique. The wood is softer than ash or oak, so it may not be ideal for very high traffic areas.
Black cherry is grown in FSC-certified forests throughout the United States, so you can choose it as an eco-friendly hardwood flooring option with a clear conscience.
Mahogany
Mahogany's deep, rich reddish hue and fine texture have made it a popular choice for luxury furniture and flooring for centuries. Mahogany is very hard and durable, and resists scratches and dents. It is also a waterproof wood, which has made it a popular option for outdoor wood use. The main downside of mahogany is that it tends to be a bit pricier than other options.
Keep in mind that most mahogany is not sustainably harvested, making it unsuitable for eco-friendly hardwood flooring. However, FSC-certified mahogany that has been grown and harvested in an ecologically responsible fashion is now available.
Maple
If you're looking for a light-colored, durable eco-friendly hardwood flooring, consider maple. Maple is a close-grain hardwood, which means its grain is a lot more subtle than a wood like oak or ash. Maple is extremely hard and resistant to dents, which makes it a fantastic solution for high-traffic areas of your home.
Maple is typically left as a light-colored wood. This is because maple is non-porous and cannot absorb dark stains easily. Dark-stained maple floors tend to wind up blotchy because the wood absorbs stain inconsistently. If you're looking for a dark-colored eco-friendly hardwood flooring option, maple is probably not for you.
All woods change color as they age, and maple is no different. It tends to yellow as it ages, which is something to be aware of.
Several different species of maple are sustainably harvested throughout the U.S., so just look for the FSC certification when shopping around.
White Oak
Durable, strong, and naturally water-resistant, white oak is one of the most consistently popular choices for eco-friendly hardwood flooring. Oak ranges in color from light to dark brown. Its most distinctive characteristic is its grain pattern, which can be quite bold and striking, depending on the tree. If you don't like strong grain patterns, oak is not the hardwood for you. The large, open pores of oak give it a coarser texture that you can feel and see. This trait also makes it absorb stains very easily, so you have a range of color options when it comes to oak. If you like the hardness, good price, and grain of white oak, but want something in a different shade, white oak's cousin red oak is also an option.