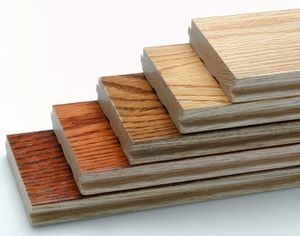 What are your options?
If you are reading this article, chances are you are looking at buying and installing a hardwood floor. Whether you are considering installing the floor yourself, or hiring a professional to do the hard work for you, it can help your decision process to learn about the different installation methods available. In order to choose an installation method, you will need to figure out what kind of sub-floor is in place in your home. For both solid and engineered hardwood flooring installation, it is very important that you choose the right fitting method for your sub-floor.
There are three common types of sub-flooring:
Concrete or cement
Plywood and OSB over joists
Particleboard
It's important to know that vinyl flooring or other preexisting flooring is not suitable sub-flooring for hardwood or engineered hardwood flooring installation and must be removed. Before installing any type of wood flooring, it's important that you get down to a flat, solid sub-floor.
Types of installation
There are several different options for installation. What you should choose depends both on the type of subflooring and the type of hardwood flooring you are installing. Here's a handy chart to help you choose an installation method:

As you can see, only floating and glue-down are suitable for engineered hardwood flooring installation. Solid flooring installation depends on the type of sub-floor.
Let's take a look at the options.
Floating installation
Floating installation is the easiest method for the novice do-it-yourselfer, as it requires no prior experience and the least amount of skill. Rather than being glued or nailed directly to the sub-floor, floating installation relies on the weight of the flooring itself to keep the floor in place. The method involves using PVA glue to attach the tongue and groove of the flooring planks together. As such, it is not suitable for solid wood floors, which need to be firmly fixed in place to prevent them from moving. It is however a great option for engineered hardwood flooring installation. In addition, you can choose a variety of underlay materials to reduce moisture or dampen noise. It can also easily be used over under-floor heating.
Glue-down installation
As its name implies, glue-down installation involves using a bonding agent or adhesive to attach the floor directly to the sub-flooring material. This method works with all types of sub-flooring and all hardwood flooring options, but if you are working with a concrete sub-floor, you will first need to apply a special two-part epoxy membrane to the floor to prevent moisture from seeping upward and damaging your hardwood floor. Glue-down installations can be very durable and stable when done properly. However, the process can be quite complex, and is not for the novice installer. Care needs to be taken to ensure that the floor lays perfectly flat. In addition, the adhesives used can be messy and toxic.
Nail-down Installation
Nail-down installation is not suitable for engineered hardwood flooring installation, but is an excellent choice for solid flooring over a wooden sub-floor. In this method, nails are used to fasten the hardwood planks directly to the underlying sub-flooring. The process is generally regarded as time-consuming and very exacting. It requires a high degree of skill to ensure that the floor is properly attached, and the job itself is quite tedious. Unless you have extensive carpentry experience, it is probably best left to the professionals. However, the finished product is a beautiful, timeless hardwood floor that should last for decades if properly cared for.