When searching for custom hardwood flooring, Vancouver, Washington has much to offer. For the customer who wants to create a unique design, a large variety of hardwood selections is available to mix, or accentuate with a particular pattern or design. Eco-friendly and reclaimed wood are options for the customized home floor design.
Centuries ago, wood floors covered many of Europe's finest castles, estates and galleries. The patterns in the floors were as much a work of art as the tapestries on the walls or the stained glass in the windows. Those who toiled at sea may have made ornamental floors on the wooden decks of their ships  where the creation of a carving or inlay helped pass the many hours away from shore. The labor-intensive, hand-crafted hardwood floors were limited in the 1700s and 1800s to only the homes of the wealthy. Power tools for sanding replaced the hand-scraping method in the 1930s, and other industry developments made artful floors more accessible. Ornamental floors with distinctive designs are now more popular than ever. Even computers have made their way into the industry, with laser-cutting technology making inlays out of any design that can be drawn.
To get a wide variety of custom hardwood flooring design ideas, check the internet for images of floor design. You may be artistic and able to create a design you want on your hardwood floor like the following image.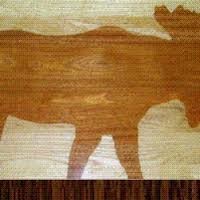 You choice of hardwood type is important as some species do not stain well such as cherry and maple. Oak is the easiest wood to stain and gives you the most color options while birch, maple, pine and fir don't take stain well. For example, maple and birch wood have tight grains and tiny pores that do not absorb stain pigment.
Inserting a simple design into the border of the room with a nice transition in the corners has a stunning effect.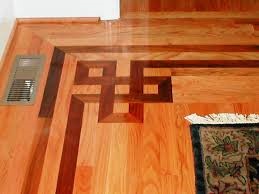 Besides incorporating a design into the hardwood floor, you may also consider reclaimed materials. Reclaimed wood from the bowling alley added a whimsical touch to the distinctive design of a home viewed on a flooring design site. Reclaimed wood adds a warm and naturally attractive, aged look with originality.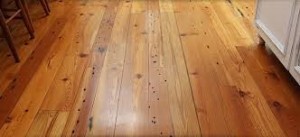 Kinsey Hardwood Flooring offers customers the option to use reclaimed wood flooring. Salvaged wood from old barns, railway sleeper cars, or unique sources such as a demolished bowling alley can be sanded, refinished, and cut to a customer's specifications. As you envision your dream floor, discuss your plans with a qualified professional at Kinsey Hardwood Flooring to get advice and an estimate for completing your desired project.